From Virginia Woolf and her circle to Kate Moss's Vogue shoot, the unconventional Sussex farmhouse has captured imaginations across the decades
How to get the Charleston look in your own home
The most fashionable house in England isn't on an elegant London street or in a chocolate-box Cotswolds village, but at the end of a long, narrow, often muddy country lane riven deep in a fold of the Sussex Downs. Inside, there is not a single midcentury cocktail cabinet, rainforest shower or Italian designer sofa to be found. Instead, Charleston is a thickset farmhouse of doughty 17th-century stone, scrambled with roses, dormer windows nosing from a slope of weathered tile.
The layout is warren-like rather than open plan, the floors unevenly boarded. As is the way with country houses that were built to keep out the chill, the windows are on the small side, the light a little gloomy. But every room is decorated by hand, in dizzying detail – sponge-painted diamonds on wood panelling, a still life of hollyhocks and poppies on a wooden door, nude figures either side of a fireplace encrusted with colourful tiles – so that the house sings with colour and with life.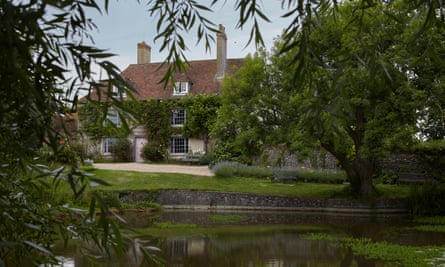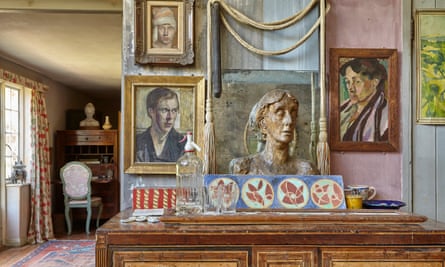 The fashion world is as in love with Charleston now as the Bloomsbury set were from the moment in 1916 when Virginia Woolf stumbled across the house and wrote to her sister, Vanessa Bell, that "it has a charming garden, with a pond, and fruit trees, and vegetables, all now rather run wild, but you could make it lovely".
Bell, the painter Duncan Grant and a tangle of family, lovers and friends made the house their home and studio for six decades; after Grant's death in 1978, it opened to the public in 1986. In Paris last June, a scale model of the house was built as a stage set for a Dior menswear catwalk show, which included prints drawn from Duncan Grant paintings. A year earlier, Kate Moss was photographed for British Vogue on one of the house's faded sofas wearing only a pair of Fendi couture high-heeled boots, embroidered all over with pearls and sequins, and Bell's own straw sunhat. Next month, Charleston's new gallery space in nearby Lewes will stage Bring No Clothes: Bloomsbury and Fashion, curated by Charlie Porter, the first major exhibition to explore the Bloomsbury influence on style.
The Charleston look has spread from the catwalk to our homes. The naive vibrancy that is the most distinctive feature of Charleston's interiors is, right now, piled high in high-street homeware stores. Brightly painted plates and bowls borrow from the cheerful bohemia of Duncan Grant's pottery. Rugs have scalloped edges, water glasses are daubed with swirls, lampstands fashioned from towers of bobbins. Lemon-print aprons by La DoubleJ and ladybirds on leaf platters by Bordallo Pinheiro bring to life the informal, communal spirit of a house where the dining table, chairs and fireplaces were all lovingly painted. Ella Joel, homeware buyer at Matches, is seeing fashion-conscious customers drawn to colourful rustic wicker placemats by Cabana, heart-daubed plates by Summerill & Bishop and shell-painted ones by Ginori 1735.
The irony of Charleston being fashionable is that the Bloomsbury set – who "lived in squares, painted in circles, and loved in triangles", as Dorothy Parker put it – had little time for fashion. Bring No Clothes, the title of the upcoming exhibition and Porter's accompanying book, takes its name from an instruction Virginia Woolf gave to house guests. ("Please bring no clothes: we live in a state of utmost simplicity," she wrote to TS Eliot, inviting him to stay in 1920.)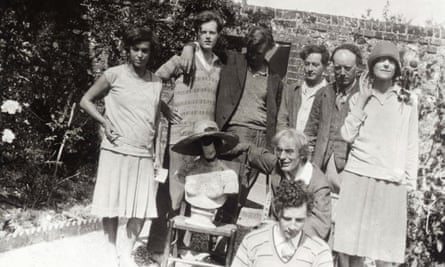 But the instruction is nothing if not a fashion statement. The disdain for dress codes, the irreverent self-expression of painting directly on to fireplaces and door frames, and the famously unconventional cat's cradle of relationships between Vanessa Bell, Duncan Grant and Grant's lover David Garnett, all flower from the same free-thinking root. To stand in one of Charleston's exuberantly painted rooms is to feel how much the inhabitants loved and celebrated the world of ideas; to be invigorated by their robust interrogation of tradition. And there is something very modern about the way the Charlestonians remade their home in their own image, painting directly on to wardrobes and headboards without boundaries between art and life. The house is, in a way, a giant – and gloriously unfiltered – Bloomsbury group selfie.
---
More than a century later, Charleston resonates with audiences who find more to relate to here than in the more conventional British stately homes, with their four-posters and gleaming silver cabinets. "A lot of people, perhaps especially from the LGBTQ+ community, are drawn to how the Bloomsbury group created an alternative vision of a chosen family," says Nathaniel Hepburn, director of Charleston. Dotted with portraits of children, the house is imbued with a vibrant spirit of family and love. The fashion designer Susie Cave spoke at the recent Charleston festival of the kinship she feels between the house and the chosen family of creatives who make up her Vampire's Wife design team.
Charleston's lack of grand ballrooms or ghosts of liveried butlers has given it fresh charm for a generation of visitors who, in the cost of living crisis, have cooled on Downton Abbey nostalgia. "It is the antithesis of a great house," says Hepburn. "It is a very modest house which was transformed, with very simple means but an extraordinary aesthetic and hard work, over 60 years. They made things, bought furniture from flea markets."
There is, for all the decorative touches, a bracing sense of frugality in the bones of the place. "I know that many of our visitors take ideas home with them, and not just about stencil work around a fireplace," he says. "The house shakes your perception of how different objects can fit together."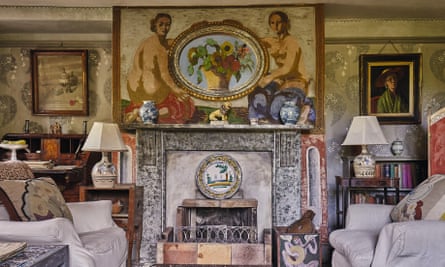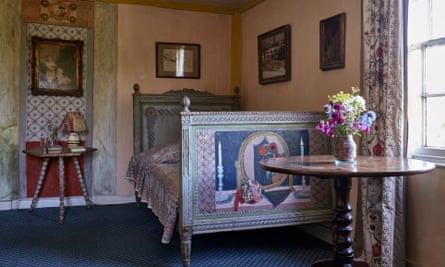 Charleston has blue-blooded fashion pedigree. Annie Leibovitz shot Nicole Kidman and Vanessa Redgrave in the house in the 1990s. In the 2000s, Christopher Bailey landgrabbed Bloomsbury as a keystone reference for his revamped vision not just of Burberry but of Britishness itself, one rooted in hedgerows and country lanes and cups of tea but championing the artisanal and the outsider, where once Burberry had stood fast for umbrellas and stiff upper lips. Burberry's autumn 2014 collection zoomed in on Charlestonian detail, silk dresses heavy with soft painterly scallops and petals.
Yet Charleston was in danger of closing in 2020, when lockdown wiped out ticket sales. Launching an emergency crowdfunding appeal to raise £400,000, Hepburn warned that with "no reserves and no endowment" to fall back on, the situation was dire. That Charleston now finds itself on an upswing owes something to influential British fashion designer Kim Jones, designer of both Dior menswear and Fendi womenswear and a student and collector of Bloomsbury books and paintings.
Jones first visited Charleston aged 14, on a trip with his school from nearby Lewes, and felt a kinship with "a group of outsiders, just as the fashion world is full of outsiders". As a teenager, he sketched in the garden; these days, his extensive private collection includes both Vita Sackville-West's and Vanessa Bell's personal copies of Woolf's Orlando, paintings by Duncan Grant, a shell necklace owned by Woolf, and a teapot painted as a birthday present by Vanessa Bell for her sister Virginia. Bloomsbury is no passing whim for Jones, who is fascinated by these people born in Victorian England who reacted against their time. Dior are bringing glamour and financial support, sponsoring the Bring No Clothes exhibition. "Kim has real knowledge and respect for the work," says Hepburn. "This is not a pastiche. He is really thoughtful about the ideas behind the visuals."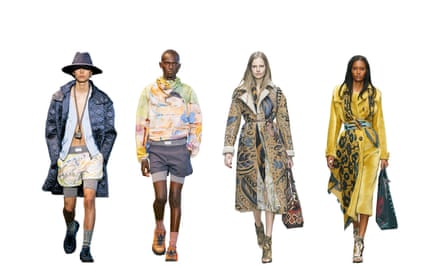 Scholars will roll their eyes at the reductiveness of the Bloomsbury name being bandied about for squiggles on a mass-produced painted plate, but there is no denying that the focus on Charleston plays into a style pendulum swing away from Scandi minimalism. The richly decorated aesthetic is yang to the yin of the uncluttered minimalism that has become the default setting of modern good taste.
Bloomsbury style, according to Porter "is absolutely not about the deification of clothing, which is the familiar narrative of fashion, and I hope that visitors will use the exhibition to reconsider their own relationship with clothing". The wildly decorated rooms at Charleston are delicious in their rampant details – an eye and a heart here, a bug and a rose there – but their soul is in their DIY ethos. "When you see the wardrobe that Vanessa Bell painted, it makes you think about what you could do yourself. There is a sense of possibility about Charleston that makes it a very alive place to be," says Porter. "It is ironic, really, that Charleston inspires stuff that gets mass-produced, because what the house asks you to do, always, is to think for yourself."